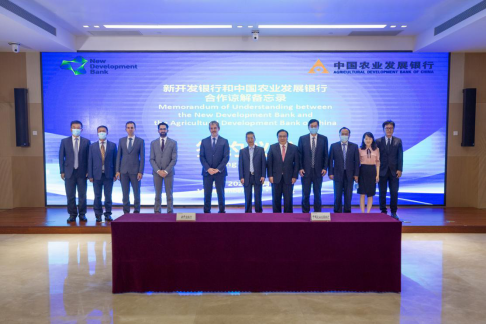 On September 14th, a Memorandum of Understanding (MOU) was signed between Agricultural Development Bank of China (ADBC) and New Development Bank (NDB) in Beijing. Witnessed by relevant officials from the Department of International Economic and Financial Cooperation of the Ministry of Finance, Mr. Qian Wenhui, Chairman of ADBC, and Mr. Marcos Troyjo, Presient of NDB, signed the MOU on behalf of their respective organization. Mr. Qian and Mr. Troyjo also held talks before the signing ceremony to exchange views on cooperation between the two sides. Mr. Zhang Wencai, Executive Vice President of ADBC, and heads of relevant departments were present.
As per the MOU, ADBC and NDB will cooperate in areas including sustainable development of agriculture and rural areas, water resource management and sanitation, clean energy, transportation infrastructure, information and communications technology, health care and education, and environmental protection and pollution control, in the forms of on-lending, co-financing, knowledge sharing, capacity building and joint research.
Chairman Qian noted in his conversation with President Troyjo that ADBC took serving agriculture, rural areas and farmers as well as rural revitalization as its mission. Guided by this, it supported national efforts in six pillar areas including food security, aligning efforts to consolidate and expand the achievements in poverty alleviation with that to promote rural revitalization, agricultural modernization, agricultural and rural development, regional coordinated development and ecological civilization promotion.
President Troyjo pointed out that food security played a key role for developing countries to transition from a low-income economy to a middle-income one. With the increase of per capita income and economic growth, there would be an expanding demand for food and agricultural products, which would be impossible without the support of relevant agricultural and rural infrastructure. NDB stands ready to step up cooperation with ADBC and to act as bridge connecting ADBC and financial institutions of other BRICS countries as well as other members of the development community, so that ADBC could share and promote its successful experience in safeguarding food security, supporting poverty alleviation and sustaining agricultural and rural development. In this sense, it's of great significance for NDB to sign the MOU with ADBC.
New Development Bank, headquartered in Shanghai, is a multilateral development bank initiated by the governments of Brazil, Russia, India, China and South Africa, collectively as BRICS. It's aimed to mobilize resources for infrastructure and sustainable development projects in BRICS and other emerging economies and developing countries, complementing the existing efforts of multilateral and regional financial institutions for global growth and development. Since 2020, ADBC has supported post-pandemic recovery, agricultural and rural infrastructure construction and environmental protection by means of on-lending and co-financing in collaboration with NDB. Preparation and implementation of relevant cooperation projects are now well underway. With this newly signed MOU, both sides will be identifying areas and frameworks of cooperation and forging closer partnership in extensive areas.